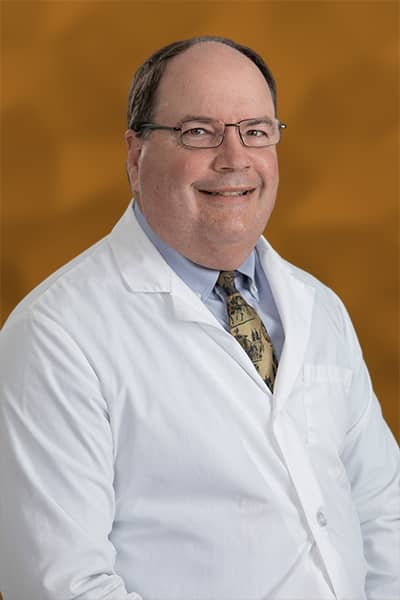 William R. Martin, M.D.
Specialties
Shoulder, Sports Medicine, Knee, Joint Replacement, Pediatric Orthopedics, Fracture Care & Ankle
Biography

Dr. William Martin was born in Henderson, Kentucky, and graduated summa cum laude from the University of Notre Dame. He received his medical degree with honors from Northwestern University Medical School in Chicago in 1989 and completed his five years of surgical training at Barnes Hospital, Washington University School of Medicine in St. Louis, Missouri. Following his residency, Dr. Martin was on staff with the 28th Medical Group at Ellsworth Air Force Base in South Dakota and served as a Clinical Assistant Professor of Surgery at the University of South Dakota School of Medicine. In 1998, he returned to Kentucky and joined Orthopaedics & Sports Medicine Owensboro, now Advanced Center for Orthopedics & Sports Medicine.

Dr. Martin is board-certified in orthopedics and is a fellow of the American Academy of Orthopaedic Surgeons. He is also a member of the Arthroscopy Association of North America, the Society of Military Orthopedic Surgeons, and the Daviess County Medical Society. His professional interests lie in arthroscopy of the shoulder and knee, sports injuries, and pediatric orthopedics.

Dr. Martin is married and has four children.
Education & Training

Bachelor of Science: University of Notre Dame, Notre Dame, IN
Doctor of Medicine: Northwestern University Feinberg School of Medicine, Chicago, IL
Internship: Barnes-Jewish Hospital at Washington University Medical Center, St. Louis, MO
Residency: Barnes-Jewish Hospital at Washington University Medical Center, St. Louis, MO
Certifications

Board Certification: American Board of Orthopaedic Surgery
Locations

2780 Frederica Street
Owensboro, KY 42301

Military Service

U.S. Air Force
Chief of Orthopedic Services, Ellsworth Air Force Base, SD

Hospital/Surgery Center Affiliations

Riverview Surgery Center
Owensboro Health Regional Hospital
Perry County Memorial Hospital
Deaconess Gateway Hospital
Deaconess Midtown Hospital
Ascension St. Vincent's Evansville Hospital

Professional Affiliations

Fellow, American Academy of Orthopaedic Surgeons
Arthroscopy Association of North America
Society of Military Orthopedic Surgeons
Daviess County Medical Society