At Advanced Center for Orthopedics & Sports Medicine, formerly Orthopaedics & Sports Medicine Owensboro, our specialty-trained surgeons and doctors are dedicated leaders who are committed to providing excellence in orthopedic care that is focused on you.
Established in 1962 by Dr. Joseph Stiles, our practice started off as a small general orthopedic clinic committed to serving the residents of Owensboro. Over the years, our practice has welcomed additional orthopedic specialists to our team of leaders as well as expanded the services we offer Owensboro and the surrounding areas. However, no matter how much we have grown and changed, we have always remained focused on what is most important to us—our patients.
Today, our practice is proud to be the region's most preferred orthopedic practice.* We offer a broad range of comprehensive musculoskeletal care as well as a multitude of in-house services. Our orthopedic surgeons and doctors are committed to providing each patient with the surgical and nonsurgical care they need for injuries and conditions of the ankle, elbow, foot, hand, hip, knee, shoulder, and wrist. They also specialize in joint replacement, joint revision, orthopedic trauma, pediatric orthopedics, and sports medicine.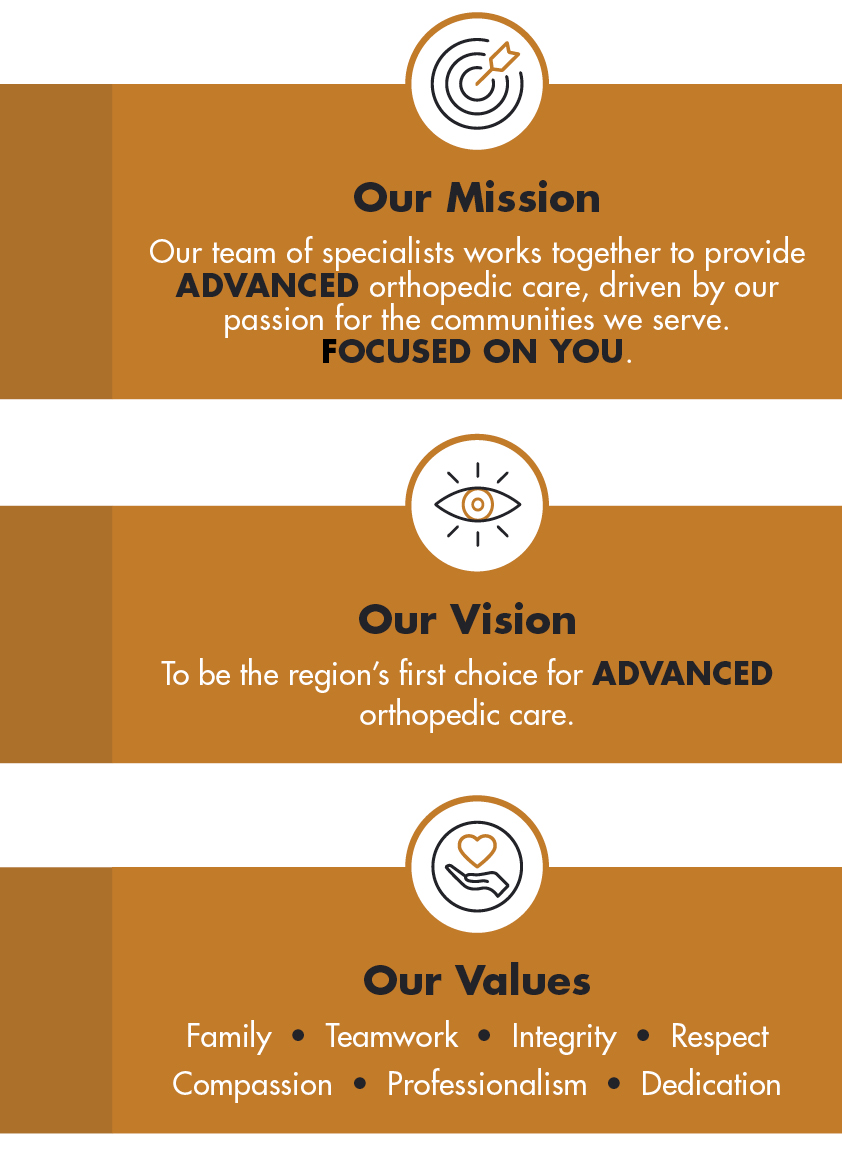 Orthopedic Care Focused on You
At Advanced Center for Orthopedics & Sports Medicine, we understand that each patient is unique. That's why our entire team of medical professionals, including our orthopedic surgeons, physician assistant, and therapists, works hard to provide each patient with the compassionate, individualized bone, joint, muscle, tendon, and ligament care they need and deserve.
With years of experience and training, our orthopedic surgeons and doctors are highly skilled leaders within the field of orthopedics as well as in orthopedic surgery. They excel in thoroughly and accurately assessing, diagnosing, and treating injuries and conditions of the musculoskeletal system, including arthritis, fractures, and sprains.
When it comes to developing treatment plans, our medical professionals are committed to taking a patient-centered approach to provide each patient with the best treatment solution. They will first exhaust all applicable conservative treatment options. However, if these nonsurgical approaches are unable to provide relief, our orthopedic surgeons will discuss your surgical options with you and help you decide which orthopedic surgery is right for you.
Rest assured that our orthopedic surgeons have undergone extensive education and training, and they specialize in performing a broad range of orthopedic surgeries. This includes joint replacement surgery for the hip and knee, surgical fracture repair, and arthroscopic surgery as well as many other orthopedic surgeries.
Comprehensive Orthopedic Services
In addition to providing musculoskeletal care, we are committed to providing our patients with access to a continuum of care through our on-site services. These services include digital X-ray; open MRI; fracture care, casting, and bracing; cortisone injections; viscosupplementation; physical therapy; occupational therapy; and workers' compensation. Our practice also features a state-of-the-art surgery center as well as Orthopedic Urgent Care.
Experience Excellence at the Region's Most Preferred Orthopedic Practice
Here at Advanced Center for Orthopedics & Sports Medicine, our mission is to provide outstanding, patient-centered care to each of our patients.
Our entire team—from our orthopedic doctors and surgeons to our nurse practitioners, physician assistant, athletic trainers, and therapy specialists—strives to provide you with the best musculoskeletal care available in northwest Kentucky. No matter what injury or condition is keeping you from enjoying an active life, you can count on our leaders to provide excellence in orthopedic care that is focused on you and your needs.
*Independent Market Research