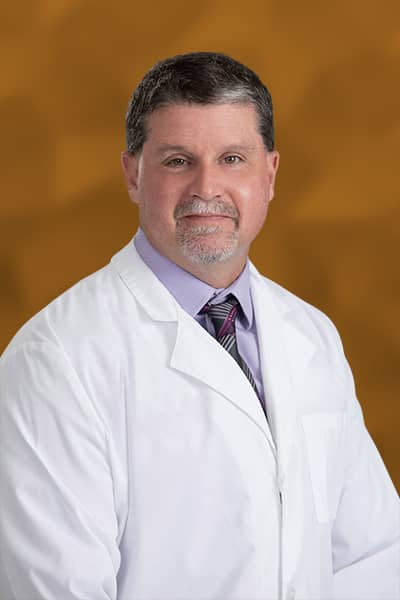 Glenn A. Henning, D.P.M.
Specialties
Ankle, Foot & Sports Medicine
Biography

Dr. Glenn Henning is a surgical podiatrist who specializes in orthopedic conditions that affect the ligaments, tendons, bones, muscles, and other structures of the foot and ankle. Specialty-trained in podiatric medicine, Dr. Henning offers state-of-the-art foot and ankle care, from the toes to the heel bone to the Achilles tendon. His expertise as an ankle and foot doctor includes treating patients with hammertoe, arthritis, fractures, heel pain, plantar fasciitis, and sports injuries. He also provides treatment for bunions and offers advanced options, such as Lapiplasty® 3D Bunion Correction™—an innovative and permanent solution for patients suffering with bunions.

Dr. Henning graduated from Brescia College in Owensboro before going to the Ohio College of Podiatric Medicine in Cleveland. He completed residency training at the VA Medical Center and St. Mary's Hospital in Huntington, West Virginia. As a member of the American Podiatric Medical Association and the American College of Foot and Ankle Surgeons, Dr. Henning keeps up with the latest developments in podiatry. He is also board-certified in foot surgery as well as reconstructive rearfoot/ankle surgery through the American Board of Foot and Ankle Surgery.

Dr. Henning has been practicing as a podiatric foot and ankle specialist in Kentucky since 2001. He is originally from Hardinsburg, Kentucky, and he is married with two daughters.

Seeing patients with ankle and foot pain as well as other ankle and foot issues, Dr. Henning is available for consultation in Owensboro.
Education & Training

Bachelor of Science: Brescia University, Owensboro, KY
Doctor of Podiatric Medicine: Kent State University College of Podiatric Medicine, Cleveland, OH
Internship: Hershel Woody Williams VA Medical Center, Huntington, WV
Residency: St. Mary's Medical Center, Huntington, WV
Certifications

American Board of Foot & Ankle Surgery

Foot Surgery Certified
Reconstructive Rearfoot/Ankle (RRA) Certified
Locations

2780 Frederica Street
Owensboro, KY 42301

Hospital/Surgery Center Affiliations

Ohio County Hospital
Owensboro Health Regional Hospital
Perry County Memorial Hospital
Riverview Surgery Center

Professional Affiliations

American College of Foot and Ankle Surgeons
American Podiatric Medical Association

Sports Affiliations

Owensboro Catholic High School